Most-likelihood phylogenetic tree finds 3 other virus teams transmitted in South Korea
A complete of 582 sequences of the Omicron variant have been got from November 24, 2021, to January 11, 2022. The share of the Omicron variant impulsively higher throughout this era and changed the prior to now dominant Delta variant in South Korea. Of the more than a few sub-lineages, the BA.1 sub-lineage used to be dominant (Fig. 1a).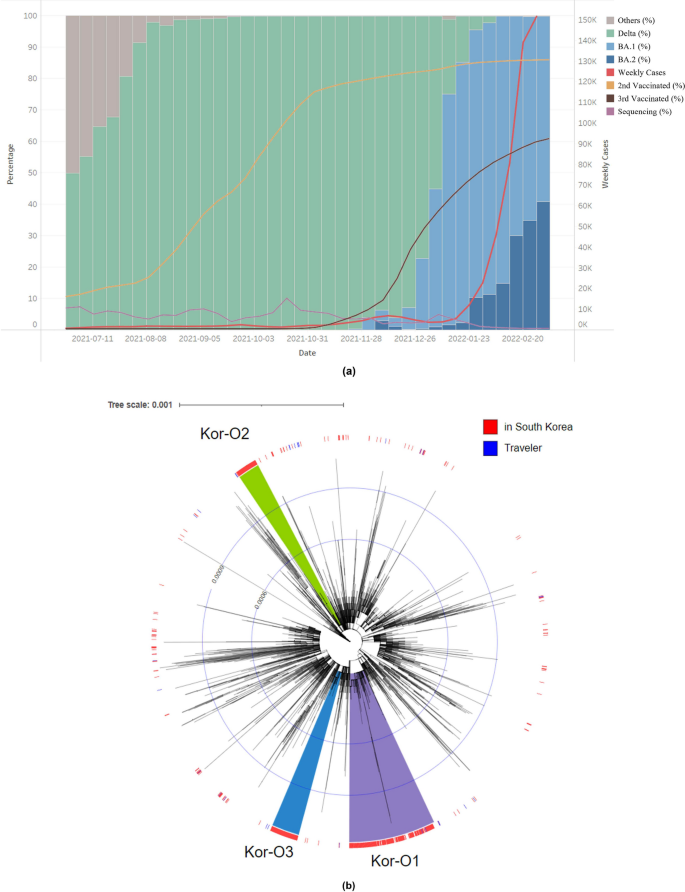 We built roughly maximum-likelihood phylogenetic timber of BA.1 sub-lineages and detected 128 distinct monophyletic subgroups sharing a not unusual ancestral node with different Korean viruses, with a neighborhood reinforce price of > 0.7. Maximum subgroups brought about most effective unmarried or quick native outbreaks; then again, 3 subgroups—Kor-O1 (n = 273), Kor-O2 (n = 68), and Kor-O3 (n = 86)—brought about a couple of native outbreaks in South Korea (Fig. 1b). Within the Kor-O1 subgroup, two inbound vacationers have been detected, which incorporated imported instances from Ivory Coast on December 30, 2021, and Congo on December 29, 2021; then again, no inbound vacationers have been detected within the Kor-O2 or Kor-O3 subgroups (Desk S1). The Kor-O1 subgroup additionally incorporated 35 sequences detected out of doors South Korea, indicating the conceivable unfold of viruses from South Korea to different international locations.
The Kor-O1 and Kor-O3 subgroups belong to the BA.1.1 sub-lineage of Omicron, and the Kor-O2 subgroup belongs to BA.1. Korean Omicron sub-lineages have further mutations from the unique Omicron pressure, hCoV-19/South Africa/NICD-N20868/2021, accrued on November 11, 2021. All 3 subgroups have T5730C in ORF 1a and T462A within the ORF3a gene. The Kor-O1 subgroup mutated A603T and G604C within the N gene, Kor-O2 mutated G955A within the N gene, and The Kor-O3 subgroup mutated C2470T within the ORF 1a gene and C473T within the M gene (Fig. S1).
Genomic epidemiology finds that those 3 subgroups have other inclinations for geographic transmission
To research the time to most up-to-date not unusual ancestor (tMRCA), mutation charges, and transmission tendencies, we built a time-scaled phylogenetic tree. The tMRCA effects confirmed that each one 3 Korean subgroups have been presented into South Korea between mid-November and mid-December, and Kor-O2 used to be estimated to be the primary subgroup. For the Kor-O1 and Kor-O3 subgroups, the adaptation between the primary isolation date and the imply of tMRCA used to be 9 days, and for Kor-O2, it used to be 12 days. The mutation charges for all 3 subgroups have been between 1.0 × 10−3 and 1.3 × 10−3 substitutions/web site/12 months and didn't display vital variations between the subgroups (Desk 1).
To estimate the transmission dynamics of the Omicron variant circulating in South Korea, we reconstructed ancestral places and inferred migration of viruses for 3 Korean subgroups (Kor-O1, Kor-O2, and Kor-O3). Our effects confirmed that the 3 subgroups had other geographic transmission inclinations. The Kor-O1 subgroup unfold to 13 out of 17 states. On December 17, 2021, the Kor-O1 subgroup used to be first detected in Gyeonggi-do, and it used to be the main web site of the outbreak till December 24, 2021. On December 31, 2021, it used to be basically unfold in Daegu, with an expanding price of transmission from Daegu and Gyeongsangbuk-do to different areas (Fig. 2, Desk 2, and Video S1).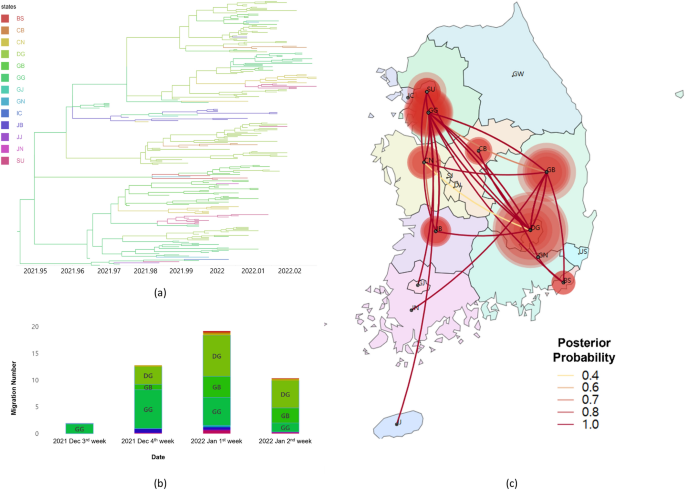 In terms of the Kor-O2 subgroup, the virus used to be basically detected in 3 states: Incheon, Gangwon-do, and Busan. Maximum transmissions began from Incheon to Gangwon-do ahead of mid-December, positioned within the northern area of South Korea. Then again, after mid-December, transmission basically proceeded in Gangwon-do, and just about all transmissions have been directed to Busan, the southern area of South Korea (Fig. 3, Desk 3, Video S2).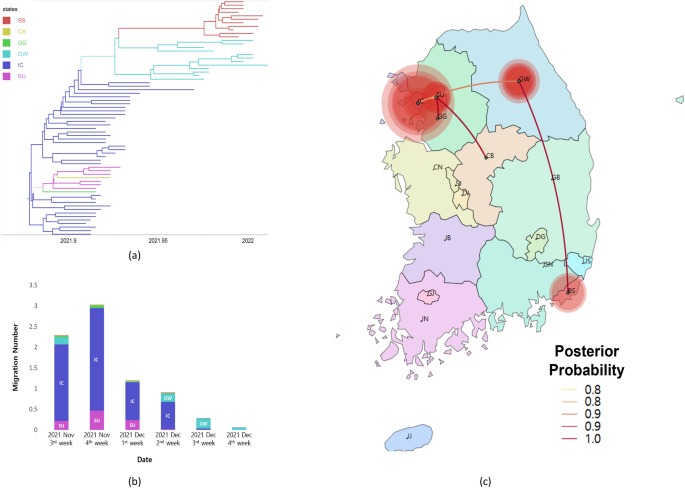 In spite of everything, in relation to Kor-O3, we detected that the transmission began in Jeollabuk-do through the top of December. Maximum transmissions have been noticed in Jeollanam-do, Jeollabuk-do, and Gwangju, which might be within the western area of South Korea. We noticed that Kor-O3 in Jeollabuk-do unfold basically to Jeollanam-do, Seoul, and Daegu and that during Jeollanam-do unfold basically to Gyeongsangbuk-do, Gwangju, and Incheon. From the start of January 2022, many transmissions have been noticed from Gyeongsangbuk-do to Gyeonggi-do and Daejeon (Fig. 4, Desk 4, Video S3).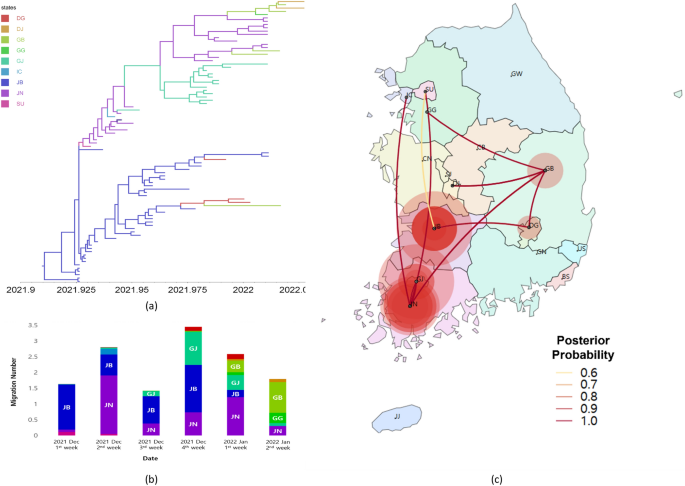 Inhabitants measurement dynamic research confirmed that the Kor-O2 subgroup used to be found out first, adopted through Kor-O3 and Kor-O1. While the inhabitants measurement of the Kor-O2 subgroup used to be consistent, the inhabitants measurement of the Kor-O1 and Kor-O3 subgroups steadily higher. Moreover, the Kor-O2 subgroup used to be no longer detected after the ultimate case detected on January 5, 2022 (Fig. 5).